The team behind this online store is humbled and grateful because Liliw Tsinelas was nominated as the Best Liliw Footwear Shop Provider in the 2017 Golden Globe Annual Awards for Business Excellence.
We have received an email from Ms. Angeline Patricio, Events and Marketing Specialist of National Data Research Examiner & Marketing Services Incorporated, congratulating us to be one of the recipient of the Golden Globe Annual Awards for Business Excellence (GGAABE) and Filipino Achiever 2017. This award is conferred after meeting the criteria and qualifications based on the consumer and market research conducted by National Data Research Examiner and Marketing Services Inc. The awarding ceremony will be held at the Grand Ballroom Centennial A & B, Manila Hotel on September 23, 2017.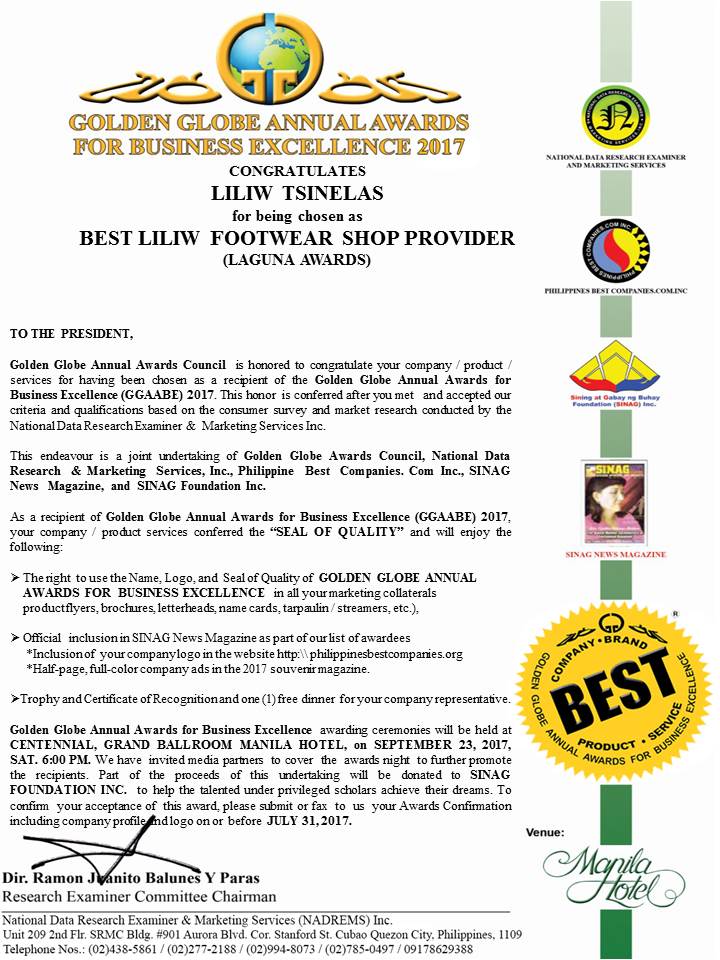 As a recipient of the GGAABE 2017, Liliw Tsinelas' products and services were conferred the "SEAL QUALITY" and will enjoy the following:
The right to use the Name, Logo, and Seal of Quality of GOLDEN GLOBE ANNUAL AWARDS FOR BUSINESS EXCELLENCE in the marketing collateral (product flyers, brochures, letterheads, name cards, tarpaulin, streamers, etc.)

Official inclusion in SINAG News Magazines as part of our list of awardees. (Inclusion of the company logo in the website: http://philippinesbestcompanies.org and half-page, full-color company ads in the 2017 souvenir magazine.)

Trophy and Certificate of Recognition and one (1) free dinner for the company representative.
At first we thought that this is a SCAM. How can our online store receive such award if we are just less than two months in the online market? We have officially launched our online store last June 11, 2017. Secondly, it is our first time to hear that kind of award. Thirdly, we cannot remember that we have signed up for any survey or screening for this matter. But after checking the internet, we have found some useful articles to verify the legitimacy of this award.
Last 2015, Ryzza Mae Dizon received this award for Eat Bulaga (link).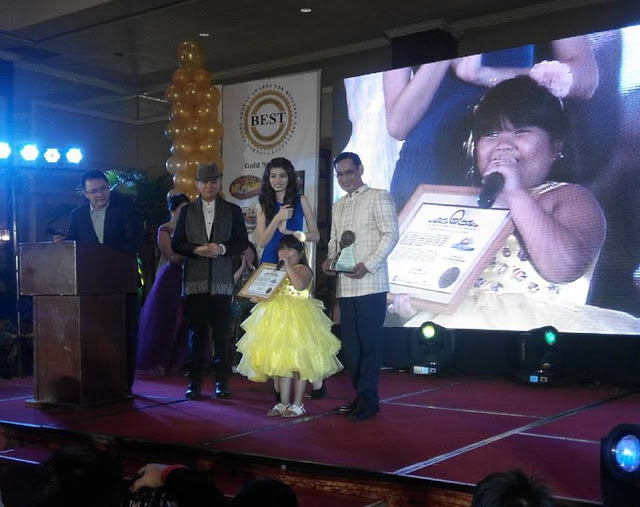 GMA Artist Center congratulates Derrick Monasterio, Charee Pineda and Kristoffer Martin for being cited as young Filipino achievers at the recently concluded Golden Globe Annual Awards for Business Excellence 2013 held at the Manila Hotel last September 28, 2013 (link).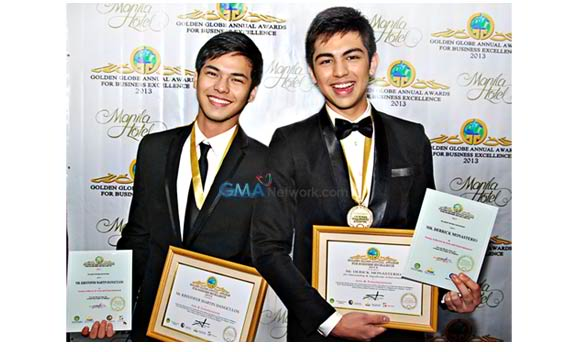 The Awardextremes Inc (maker of acrylic glass plaque award, wood award, crystal award, golf awards, sports awards, recognition awards, medals, corporate giveaways and personalized gifts here in the Philippines) received same email last 2015 (link). BIG Start Travel and Visa Assistance received the "Best Visa Assistance Services Provider for 2015" (link).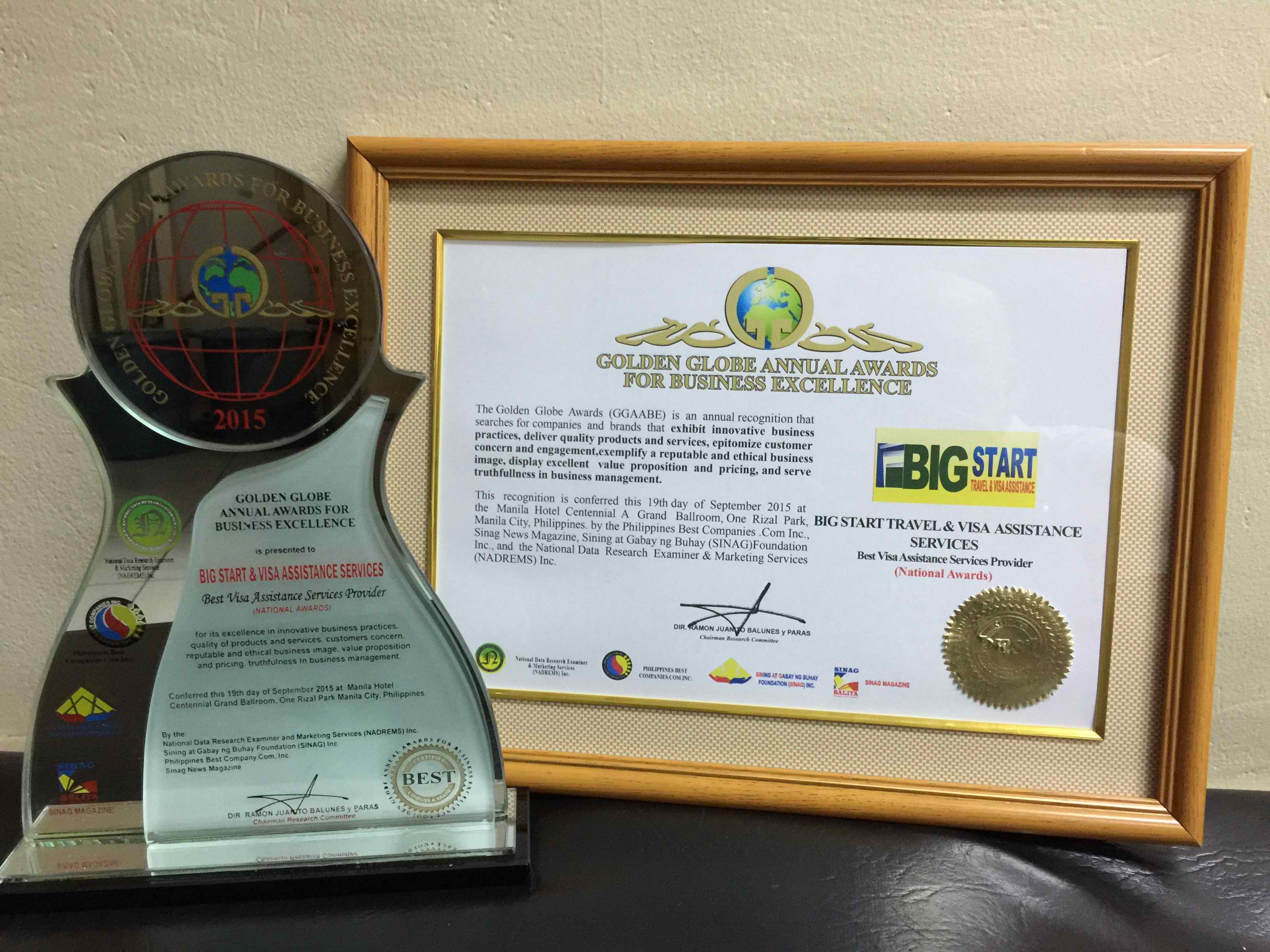 You can also visit their site at http://goldenglobeannualawards.com.ph/ and if you want to nominate a business establishment or company, kindly go to this link.
Thank you to those who nominated us but accepting and signing the Awards of Confirmation Notice, we will voluntary furnish the amount of Thirty Five Thousand Pesos (P35,000.00) for the sponsorship fund. Our start up business is not yet capable of giving such amount voluntarily. But thanks to the organizer of this award. God bless!
PS: For those who have received emails from Ms. Angeline Patricio, inquire the Facebook Page of National Data Research Examiner and Marketing Services Inc. (link) and Golden Globe Philippines (link).