Welcome to Liliw Tsinelas Online Store. We are a legitimate seller and distributor of slippers (tsinelas), shoes and sandals which are authentically made in Liliw, Laguna. Here are the step by step procedures on how to order from our online store:
1. Go to our Shop Page and you will see our product catalog.  You can also use the drop down function if you are looking for a specific type of shoes/sandals.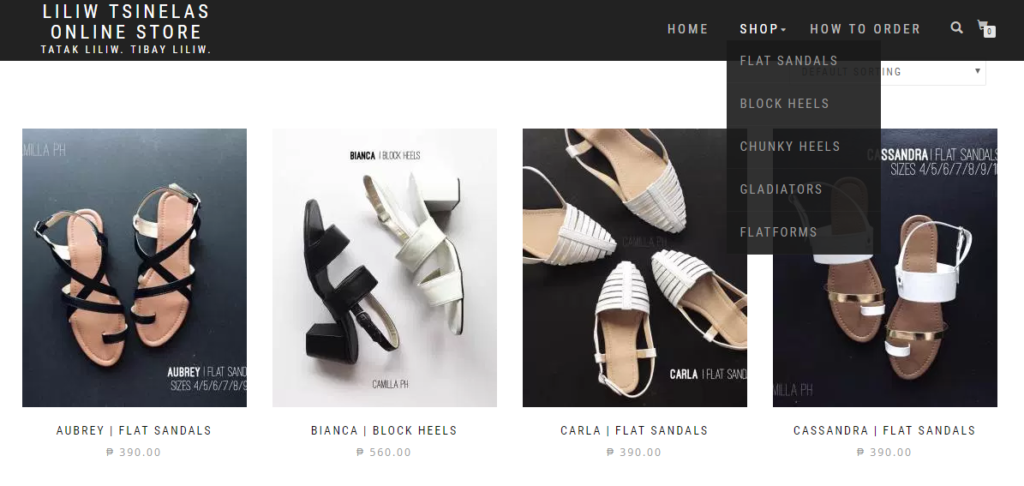 2. Hover in the image in the catalog and click 'View Sizes and Colors' button (for mobile user, just click the picture of the shoes/sandals) so that you can choose your desired color and size of the shoes/sandals you want.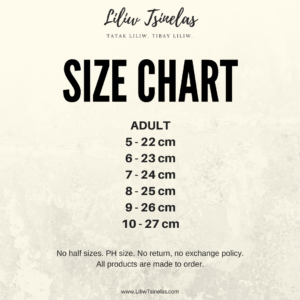 3. After choosing the color and size, and if you are already sure that you want to buy the specific item, click 'Add to Cart (Buy Now – Free Shipping)' button.
4. If you still want to buy other items, repeat Step 1 to 3.
5. If you are done with choosing the shoes/sandals that you want to buy, you can check your Cart by clicking the "View Cart" or the Cart Icon in the top leftmost part of the menu.

6. After seeing the total amount in your Cart, you can click the 'Proceed to Checkout' button. Please take note that all items are free of shipping.
7. After proceeding to checkout, fill out the Billing and Shipping information. Make sure to double check the details of your personal information. 
8. You can pay your order via Bank Deposit/Cash Remittance and PayPal/Credit Card. For meet up in LB/Bay Laguna area, Cash on Delivery is available. Click your preferred button of payment scheme. Then click 'Submit My Order' button.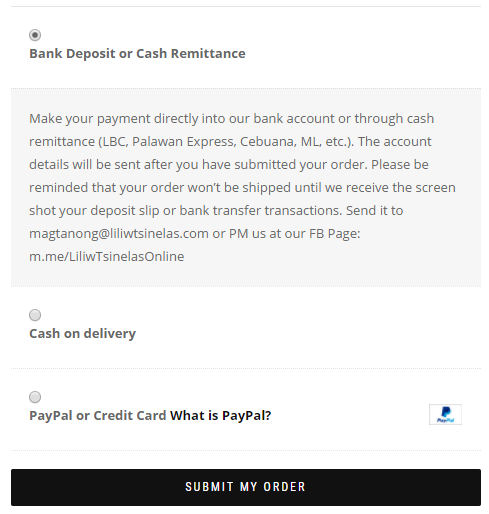 9. Once you have placed your order, you will be notified that your order has been received. This will include the information you will need for Bank Deposit/Cash Remittance (i.e. account name, account number, address,mobile number, etc.). The invoice notification will be automatically sent to the email address you have put in your billing information in Step 7.
10. Take the screen shot of your deposit slip, bank transfer transactions  or any proof of payment and send it to [email protected] or PM us at our Facebook Page.
Important Notes:
No return no exchange policy. We provide size-chart in Step 2.

The processing of orders will take an approximate of 3-4 working days after payment.

The estimated time of arrival of your order after ship out is approximately 1-2 days for Luzon, 2-3 days for Visayas and Mindanao after the processing of orders.

We will make sure to contact you through text or email regarding the status of your order.

Use the hashtag #LiliwTsinelas if you will be posting pictures in social media.

Order through the use of Google Form: link
Order through the use of FB Messenger:

link
Thank you!