Have you been to Laguna yet? Have you tried a 'chasing waterfalls adventure' in the cozy towns of Luisiana, Pangil, Siniloan, Paete, Nagcarlan, and Liliw? If your answer is no to either questions, then read on! I promise that you will find my province worth of a weekend visit after reading.
Luisiana, Laguna. This town boasts its Hulugan Falls, one of the highest waterfalls in Laguna standing at an approximate height of 70 meters. It is located in Brgy. San Salvador, which you can reach by taking a DLTB or HM bus ride bound to Sta. Cruz, Laguna. Tell the driver to drop you off at "Pagsawitan" where Luisiana or Lucban-bound jeepneys can be found.  Board the jeepney and ask the driver to drop you in San Salvador or simply say "Hulugan". In less than an hour commute, you can reach Brgy. San Salvador from Pagsawitan. Our registration took place in Kapitan's place, one tricycle ride away from the highway where we took off.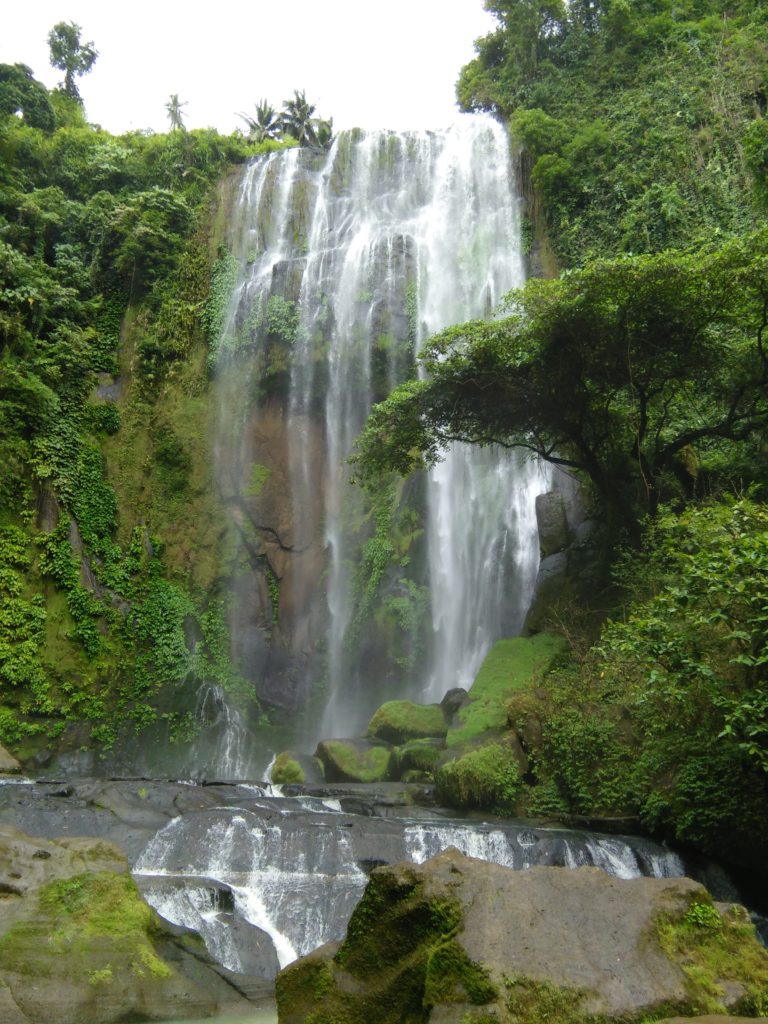 Before seeing Hulugan Falls, you can have the option to see first the other two falls in the baranggay, Talay and Hidden falls. I highly recommend that you should also see these two falls if it is your first time in Luisiana and you have no other activities planned for the day except to chase waterfalls in town.
Prepare to be overwhelmed with joy and amazement once you get to see the enchanting Hulugan Falls in person. Those pictures of Hulugan Falls I saw on Instagram were beautiful, but only our own eyes can capture its true beauty and magnificence. I swear, I felt some kind of jolt of excitement when I had a first glimpse of this majestic waterfall!
It was in September of 2016, one of the expected rainy months in the country, when my friends and me first visited Talay, Hidden, and Hulugan falls. We experienced no rain showers at all but the trail we passed through was a little muddy in some parts.
It took us a total of approximately three and half hours to visit all the three falls and go back to the jump-off point. Seeing that we still have a half-day's-worth of adventure, we decided on that same day to also visit Aliw Falls located in the nearby baranggay of San Jose as mentioned in biyahengjuansided, one of our online references for this Luisiana's adventure.
A less than twenty-minute tricycle ride from Brgy. San Salvador was all we needed to reach the DAFI resort in Brgy. San Jose, where we registered and secured our guide going to Aliw Falls. We trekked for about thirty minutes and voila! The cascading Aliw Falls welcomed us with its drizzling waters gushing over the layered rocks .
Still consumed with full satisfaction on the sight of Hulugan Falls, the seven of us had a consensus that we should have visited Aliw Falls first and saved Hulugan Falls for last. As the saying goes, "Save the best for last".
Pangil, Laguna. Sounds like a town venue for horror films to me because "pangil" means "fangs" that we most often associate with wolves and vampires. Going to Brgy. Balian in Pangil also requires riding a DLTB or HM bus bound to Sta. Cruz, alighting in Sta. Cruz plaza where jeepneys bound to Siniloan can be found. Ask to be dropped in Brgy. Balian. From there, I hired a tricycle going to the registration venue where I met with my new-found buddies for the day's adventure.
Although the town's name is associated with horror, I never have imagined that this quiet town of Pangil is where I could feast my eyes on the magical sight of Buntot-Palos Falls. It was a normal sight to behold in distant, but when I came close and stared at the massive waterfalls, I found myself in blissful admiration.
I almost did forget the almost two-hour muddy trek we've been through going to the falls. I peacefully watched the waterfalls cascading down on the basin-like natural pool. Thanks to that one limatik which sucked a bounty blood out of my feet, I was awakened from my daydreaming!
We had the place all to ourselves for a couple of hours. All we can listen to was the rhythmic rustling of the waterfalls and the chirping birds. We saw an elevated rock structure that seemed to be a jumping and/or diving point of the waterfall. Our guide said that the basin-like pool can get up to 60 feet deep during rainy months like October when we visited. I was no swimmer but courage pushed me to take that jump, knowing that our guide was there to be our life guard.
Experiencing Buntot-Palos falls was our only itinerary for that day, so we enjoyed and seized every bit of that waterfall adventure. It was almost lunch time when we decided to leave the place and other visitors were already coming. Good thing we did start our trek early around 8:30AM that day.
Nagcarlan, Laguna. Popularly known for its Underground Cemetery, this quaint town of Nagcarlan is also home to must-visit waterfalls.
Visiting Bunga twin falls is the perfect side-trip you can have after a morning chill climb to Mt. Mabilog in San Pablo, just like what we did last December. For a minimum entrance fee of P10 per person, we enjoyed the tranquility of the place on our late afternoon visit.
Having already set my standard to that of Hulugan and Buntot-Palos falls, I am honestly not mesmerized upon seeing Bunga twin falls. I mean it's like, you already upgraded, then why bother downgrading? So to enjoy our short visit on this waterfall, I just thought and pretended that it was my first time seeing a waterfall. And that trick made wonders. I started being amused of the massive waters descending from the twin falls. Suddenly I became interested taking pictures of the actions happening around the waterfall. Our minds are really powerful, indeed.
For those who really love the waters and are skilled at swimming, you can throw yourself into the waterfall which has a depth said to be around 10 meters. Jumping and diving in the waterfall is also permitted but we dare not tried because the caretaker told us that the water level was too high that afternoon. Besides, I am no swimmer at all, and we have no guide that time.
Siniloan, Laguna. It was on a chill December holiday last 2016 that my two supportive brothers and I embarked on a nature day-adventure. I chose Buruwisan Falls as this is one of the sought-after falls in Laguna, and I wanted to experience it myself.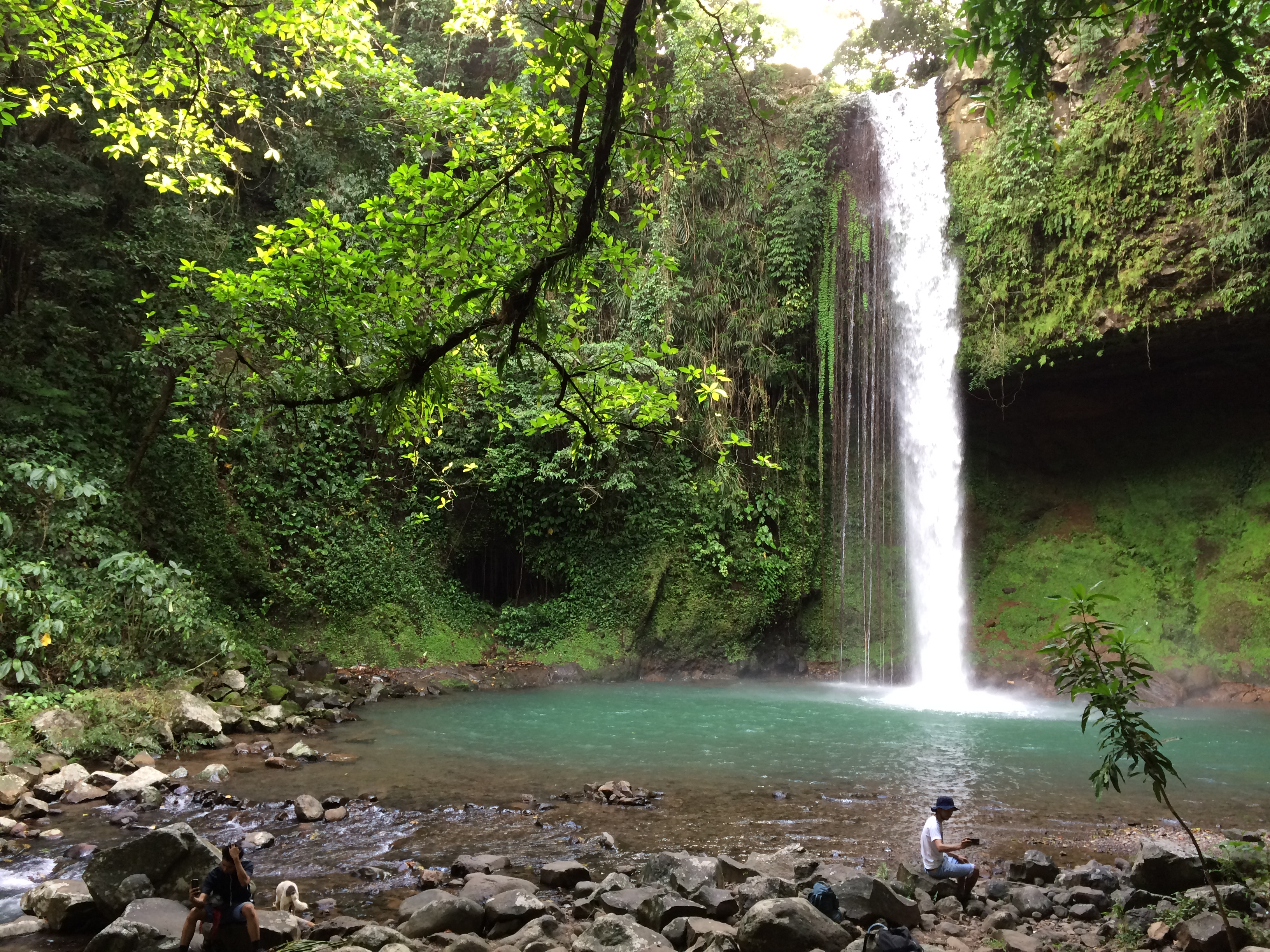 A little hour before noon, we hopped on a jeepney going to Sta. Cruz. From the town proper, we boarded a Siniloan-bound jeepney and alighted near Jollibee upon reaching the town after almost an hour. From there, we rented a tricycle that took us to the jump-off point in Brgy. Macatad going to Buruwisan Falls. The moment my youngest brother Jayson stepped out of the tricycle, it rained. I don't know if there's truth in that Filipino old saying "balat sa pwet" – that's why it rained. Haha. But even so, we considered the light rain showers as our ally in trekking the path going to Buruwisan. It was around 1:30PM when we started. We hired a guide at a fixed rate of Php600 going back and forth. The unexpected fun part of our trek was the two friendly local dogs that accompanied us throughout the journey.
After more than an hour of fast-paced walking, and thanks to the rain showers subsiding quickly, we arrived at our destination — the modest and gorgeous Buruwisan Falls! The surrounding waters were in turquoise blue making it an enticing dip for anyone who's up for a cool splash of the waterfalls. By far, I ranked this as third in my personal bucket list of must-visit Laguna waterfalls.
Our guide also toured as in the nearby Lanzones Falls, a mini-version of the grand Buruwisan Falls. We decided not to visit the other falls as we were pressed for time.
Decided to be back at the jump-off before dark, we left Buruwisan around 3:30PM. We were left with only one dog to cheer us up heading back, the other one stayed at the campsite to nurse her puppies.
We made a quick stop at the so-called summit of Mt. Romelo which was just a flat land area elevated at around 300 MASL, overlooking Pililla windmills in the neighboring province of Rizal. The finale of our day adventure would have been perfect if we waited for the sun to completely set in, but the shadow of the afternoon sun's rays was all we could afford to wait for because we don't want the dark to caught us in the middle of the trail.
A little before 5PM, we reached the baranggay hall. We bid goodbye to our newfound friend, the friendly dog, by giving him the last piece of our pandesal and left-over food from lunch.
Paete, Laguna. The town known for its quality wood-carved products and has earned the title "Woodcarving Capital of the Philippines" in 2005, that's Paete. The town is also home to the not-so-famous-yet but equally captivating Matabungka waterfalls, the town's magnet to nature seekers like me.
It was during the chill December holiday last year when I invited two of my long-time-no-see high school friends, Rhege and Edz, to visit Paete. We all agreed to meet in Sta. Cruz town proper and then rode a Siniloan-bound jeepney. It took roughly thirty minutes before reaching the town of Paete. We then asked a tricycle driver to bring us to Brgy. Ilaya Norte, the jump-off point going to Tatlong Krus and Matabungka Falls. We paid Php10 per head contrary to the first offer to us, amounting to Php500, by the other tricycle driver who wanted to bring us instantly to the summit of Tatlong Krus. It really pays to ask directions from the locals first, in our case a "karinderia" owner. We have saved our Php470 that day.
In my opinion, Matabungka Falls is best experienced after you have gone climbing up to the viewing point of Tatlong Krus – a one to two hours (depending on one's physical stamina) uphill stride on cemented stair steps. Going down, it took us thirty minutes or so to reached Matabungka Falls. The landmark is the waiting shed full of vandalism with an abandoned CR across, where the trail going down the falls can be found.
We were in complete surprise upon seeing the waterfalls upfront. It was a twin waterfalls, too lofty enough to make your neck stretched out to be able to see its fullness. We were even challenged how to capture its length using our phone's camera. After a few tries, we gladly succeeded.
Sweaty and tired after a couple of hours leg work-out from the unexpected uphill and downhill hike, you can enjoy to bathe in the basin-like pool at the bottom of Matabungka Falls. We dared not take a plunge having seen the water as unclear, maybe because it was the rainy season.
Going down to the jump-off point took us another thirty minutes and on the last few steps, we found ourselves eating native street foods like camote and banana cue, lumpiang gulay, and "palamig" being sold by the neighborhood of Brgy. Ilaya Norte.
A rainbow on that day perfectly capped off our adventure in the town of Paete.
Liliw, Laguna. My dear hometown. A place where you can shop for quality footwear at a very reasonable attractive price. Liliw is dubbed as the "Tsinelas Capital of Laguna" and holds the annual "Tsinelas Festival" every last week of April. It is one of the most celebrated events by us Liliweños aside from our town fiesta happening every 29th of August.
Liliw can be reached via two routes. One is the Sta. Cruz route. Once you are in the town proper of Sta. Cruz, jeepneys bound to Liliw are readily accessible and within an hour, you can reach the town. Second route is the San Pablo route, the one I am most familiar with and has always been my preferred route since Liliw-Nagcarlan bound jeepneys are available 24 hours in San Pablo. From Manila, ride any bus going to Lucena and alight in SM San Pablo, the easiest and most known landmark in San Pablo highway. Take a jeepney going to San Pablo "Bayan" and ask to be dropped in "Manggahan". The jeepney terminal going to Liliw (and also Nagcarlan) is across the street, beside the street-food vendors hub. From there, travel time is around 45 minutes to one hour. (Read: Paano Pumunta sa Liliw na Commute?)
You can do a whole-day footwear shopping in Liliw. But for adventure seekers like me, Kilangin Falls, also known as Bukal Falls (Majayjay given-name), is a must visit. If you want a relaxed trekking without having to worry about mud-soaked feet and the occasional presence of blood-sucking limatiks, be sure to visit during the months of March to June. Otherwise, a muddy adventure awaits you during the rainy months like what happened to us last January.
The starting point going to Kilangin Falls is located in "Valiche". You can hire a tricycle from Liliw's town proper and negotiate with the fare depending on the number of passengers. There are occasional jeepneys bound to Valiche in Brgy. Kanluran Bukal jeepney terminal especially during the morning.
The whole trek going back and forth Kilangin Falls, including swimming time and capture-this-and-that moment, took us roughly five hours in a relaxed pacing during summer. But it was a completely different story when we visited last January in a late afternoon and the weather was not favorable to us. But trekking in the middle of the pouring rain, not to mind the occasional strikes of thunder, was quite an adventure that my friends would surely remember.
So there you go, the waterfalls of Laguna! All you'll need is an adventurous spirit, your light backpack, and a PhpP500 for each of this weekend adventures. Bring on your friends and let the chasing waterfalls begin!